How Often Should You Rotate Your Tires?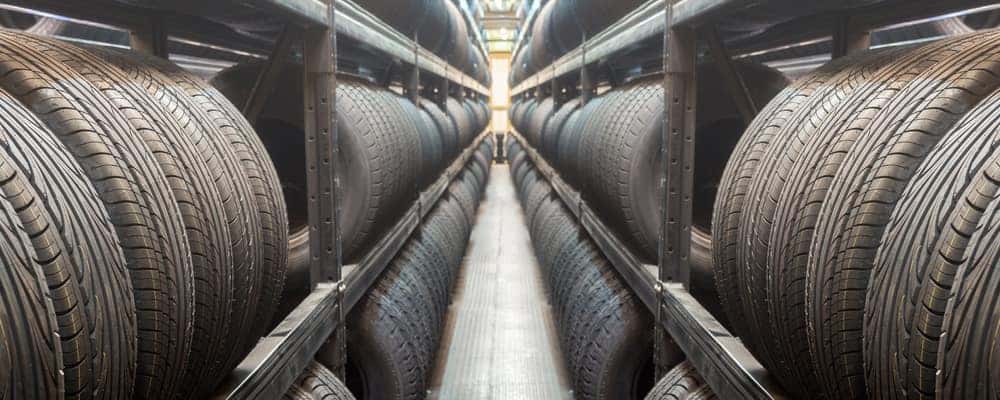 ---
---
One of the questions we're often asked is, "How often should you rotate your tires?" In general, the rule of thumb for when to rotate tires is
every 5,000 miles to 7,5000 miles
. Of course, you'll want to check your owner's manual for an exact interval, as tire rotation frequency can change depending on your driving habits. You can also check out our guide below for more information, or
contact our service team
to speak with one of our certified technicians.
Tire Rotation for FWD & RWD Cars
If your vehicle is front-wheel or rear-wheel drive, it simply means the engine power is directed to the front or rear wheels, respectively. This means the front or rear axle bears the brunt of the wear and tear, and the tires need to be rotated to prevent damage. Here are some tips to keep in mind about tire rotation for FWD and RWD vehicles:
Rotating the tires on your FWD car? Be sure to flip sides when moving the rear tires. For example, move the rear right tire to the front left. When moving the front tires to the rear, place them on the same side.
Have a RWD car instead? You'll invert the process above. Change sides when moving the front tires to the back. Make sure to keep the rear tires on the same side when moving them to the front.
How you drive influences how often you need to rotate your tires. The service team at Hyundai Inland Empire can help you work out a tire rotation schedule that makes sense for your Hyundai vehicle.
Tire Rotation for AWD Cars
If you're wondering how many miles to rotate tires on your AWD vehicle, it'll likely be a little less than 5,000 to 7,5000 miles — more like 3,000 to 5,000. Again, this depends on your vehicle and your driving habits, so double-check your owner's manual or speak with a professional. If you drive an AWD vehicle and can't remember the last time you had its tires rotated, schedule service at Hyundai Inland Empire near Redlands.
What Are the Benefits of Rotating Tires?
Beyond lengthening the life of your tires, regular tire rotation provides your vehicle with the following benefits:
Stronger traction in adverse weather conditions
A quieter ride on San Bernardino roads
Reduces unneeded stress on the drivetrain
Does your vehicle need new tires? All tires wear out eventually, no matter how well you care for them. Our well-stocked Hyundai tire center can help you find the manufacturer-approved tires for your Hyundai car or SUV.
Learn More from Hyundai Inland Empire
Don't hesitate to contact us online or give us a call at if you have additional questions about when to rotate tires. We can also answer any questions you may have about routine service, such as, "How often should I change my oil?" While you're here, be sure to check out our service specials and parts coupons for opportunities to save on Hyundai tire service near Highland.